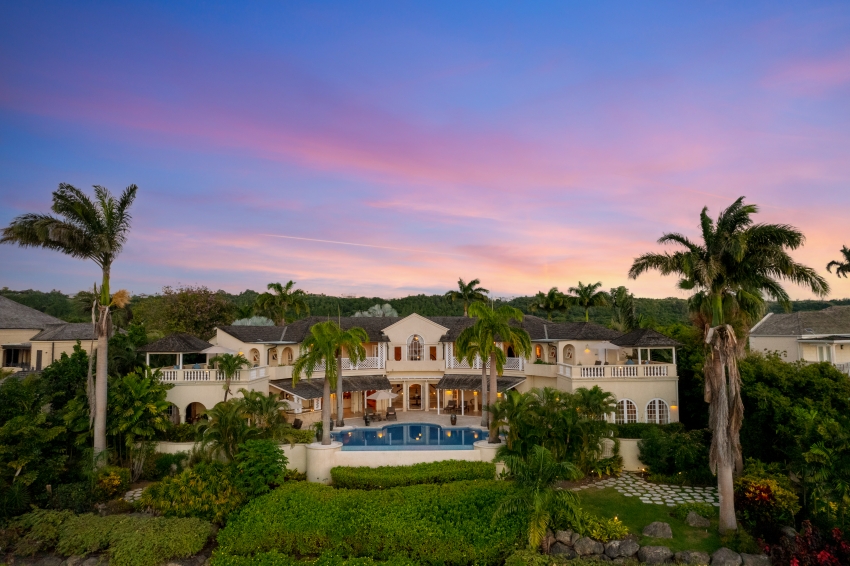 Villa Management and Property Maintenance
Island Villas Property Management Service is designed to give you the peace of mind that your investment is in good hands. With over 20 years of experience, The Island Villas Team can effectively and efficiently oversee the management and maintenance of your property, ensuring that annual maintenance costs are kept to a minimum and owners only pay for services used.
On commencement of our services, your property will be assigned to a dedicated Property Manager, who will provide you with a detailed maintenance diagnostic of your property. From there, our administration services ensure that each property is maintained to the highest standards and at a reasonable cost. These services include, but are not limited to, the coordination and payment of the following:
Villa Management Services
Any additional services may be included upon request.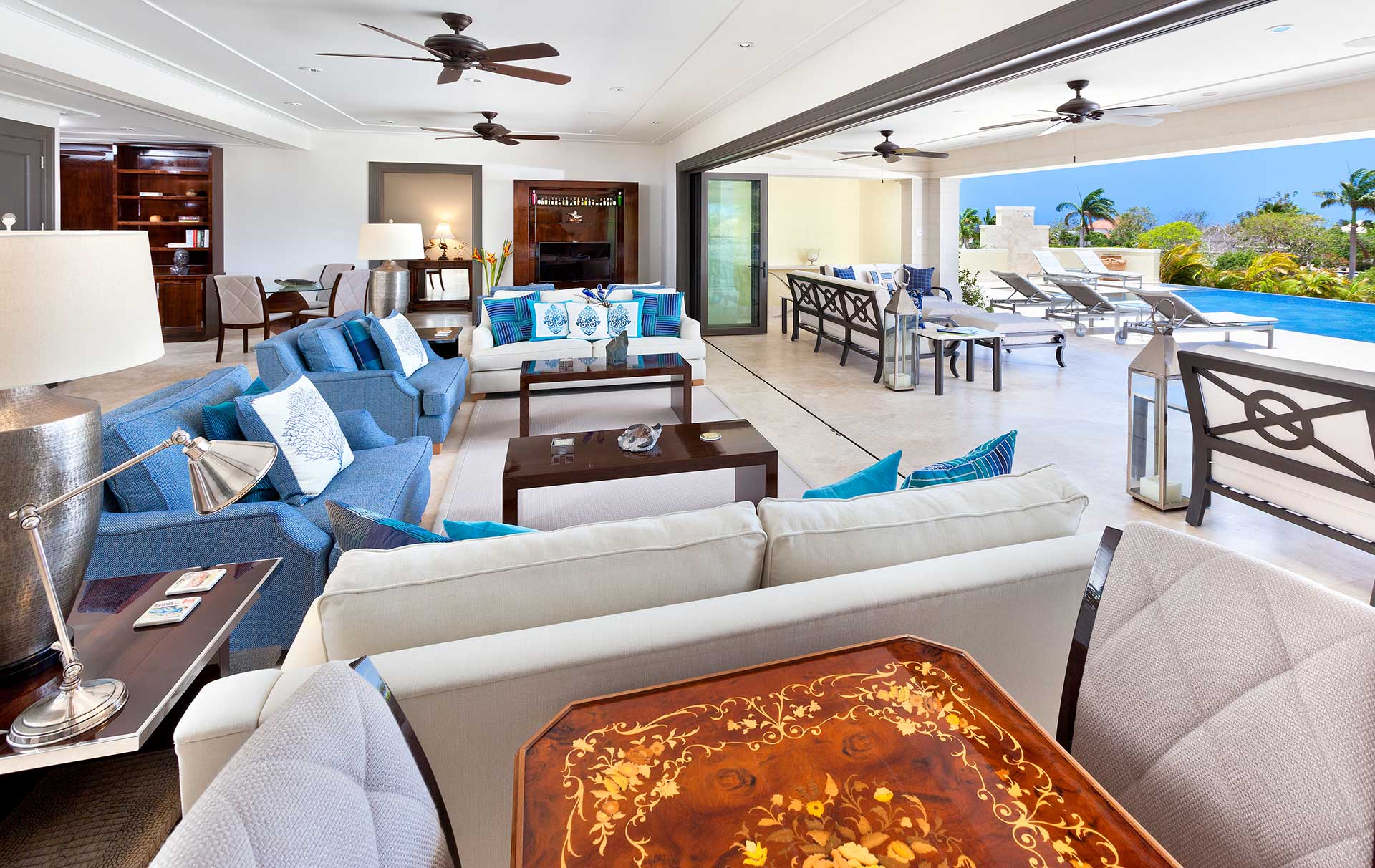 All Property Related Charges
These charges include wages, NIS, PAYE, utilities, taxes and insurance.
Management of Third-Party Maintenance Services
We actively source competitive quotes from trusted suppliers and provide maintenance diagnostics. Services will be tendered when necessary.
Household Staffing
includes housekeeping, hostess, nannies, butlers, landscaping, security services and others as required (provisional of seasonal employees as needed). Island Villas maintains a database of experienced, reliable staff via "Smartmove Recruitment" – our affiliated company.
Access to Concierge Services
Concierge Services includes airport meet and greets, arrival/departure transfers, event and excursion bookings, babysitting services, destination weddings, private shopping, itinerary management and more!
Property Maintenance Services
These services may include the following:
Procurement of cleaning materials
Septic tank and water tank inspection
Cleaning of swimming pools/water features
Equipment maintenance
Electrical checks
Pressure washing
Pest Control
Landscape and irrigation
General maintenance works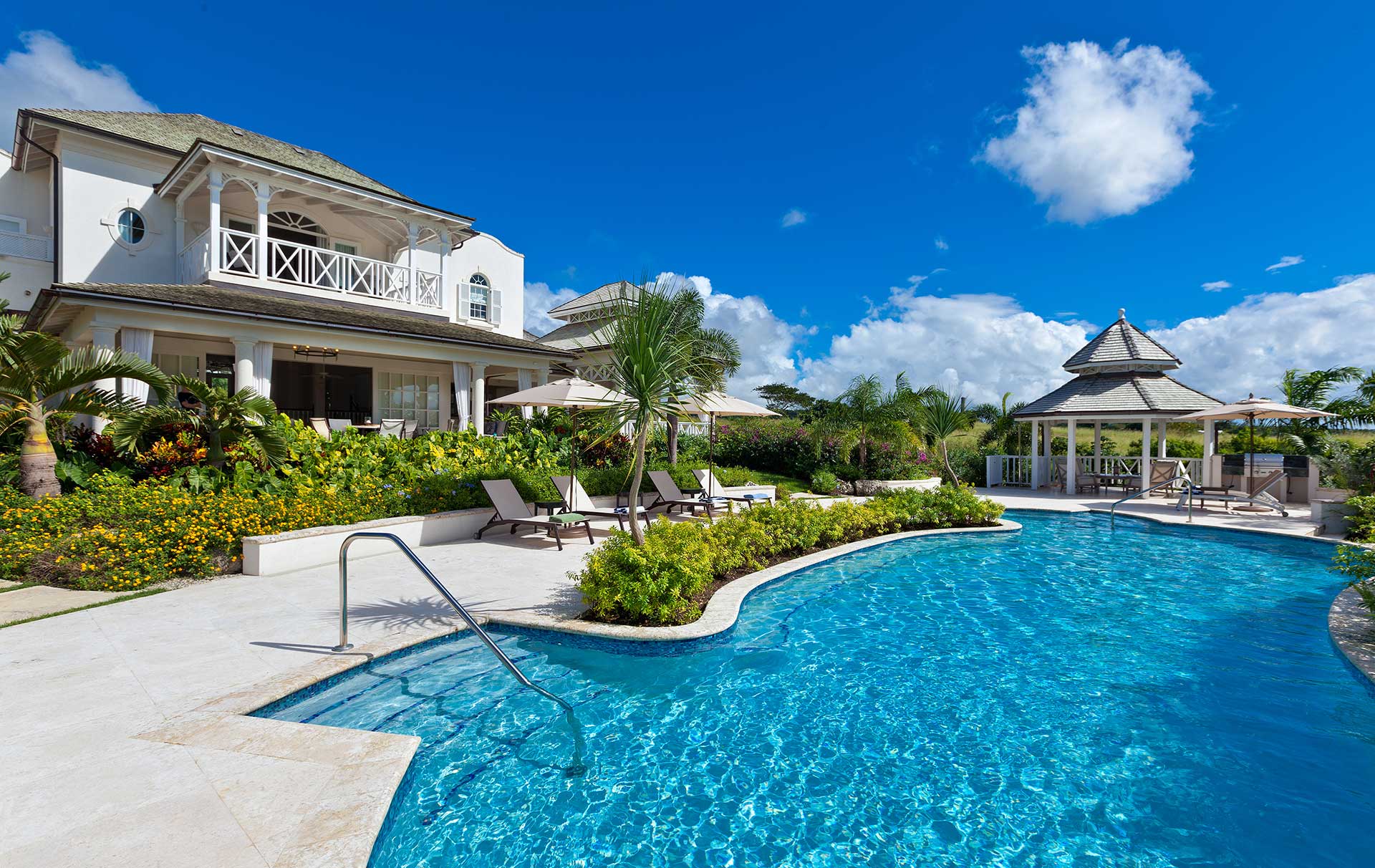 Property Management Services
Property Management Services also includes the coordination of routine and ad hoc property maintenance services.
Details of these services are communicated to the owner and subject to approval, prior to the undertaking of any work on the property.
For a free consultation contact us at info@island-villas.com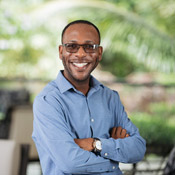 MARIO SPRINGER
Accounts Manager
Mario has an array of experience working in the financial/accounting field and has successfully achieved a Bachelor's Degree in Economics & Accounting from the University of the West Indies, Cave Hill Barbados. Mario is never tired of learning to further his experience and is currently pursuing an ACCA.
He is a dedicated employee who is diligent and hard working.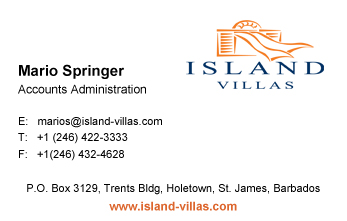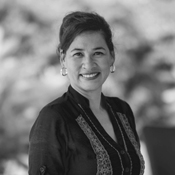 SUELAN HART
Sales Director
Suelan has many years experience in real estate business and specializes in finding the perfect match for our clients both locally and regionally. She has thorough knowledge of the real estate opportunities across Barbados, including high profile luxury estates such as Royal Westmoreland, Apes Hill, Sugar Hill and Sandy Lane.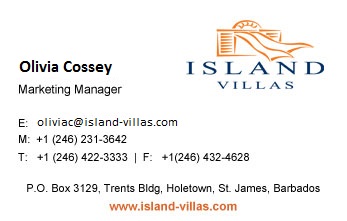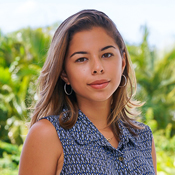 ZOE KING
Sales and Marketing Executive
Zoe manages the marketing portfolio for the Island Villas Group of Companies. She has spearheaded Island Villas' digital marketing strategy and is responsible for all communication and advertising, as well as functions on our websites and microsites. She ensures that Island Villas maintains its global recognition and works closely with all departments to develop effective marketing and business development plans.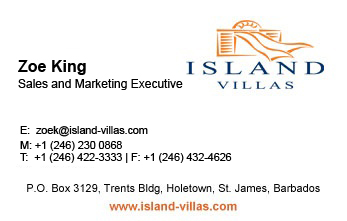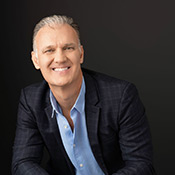 RICHARD EAMES
Managing Director
As the sole owner of Island Villas, Richard formulates and oversees the implementation of the company's business strategy. Since its conception in February 2000, he has transformed Island Villas into one of the leading property sales, property management and luxury villa rental companies in Barbados and the Caribbean.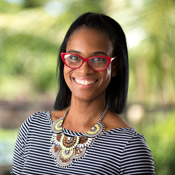 KAREN PERCH
Reservations Manager
Overseeing our exclusive holiday villa portfolio, it is Karen's responsibility to maximize property revenue through competitive pricing and control of our rooms' inventory. As the main point of customer contact she handles all short term rental queries and also coordinates all inbound and outbound logistics.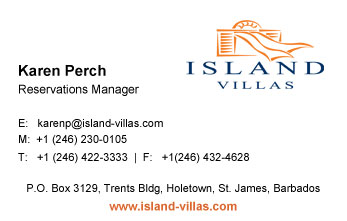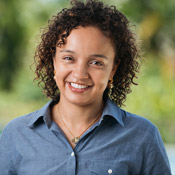 KARLA SEALY
Public Relations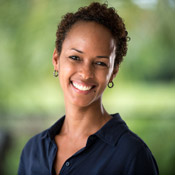 CHRISTINE RICHARDS
General Manager
As local and regional Sales Director, Christine specializes in finding luxurious properties that fit her clients' needs. Christine has thorough knowledge of our real estate opportunities in high profile luxury estates and developments such as Royal Westmoreland, Apes Hill, Sugar Hill and Sandy Lane. She plays an integral role in mapping the company's strategic direction and ensures that operational strategies are implemented and maintained to the highest standard. Christine spent several years living in Milan where she perfected her Italian. In her free time, Christine enjoys running and a good glass of wine with friends -- preferably not at the same time.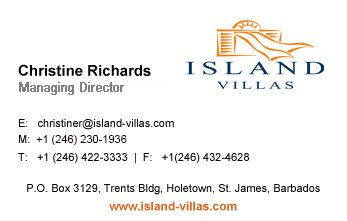 Join Our Community
Benefit from exclusive sales, new listings and even more information about Island Villas.
Your information is 100% safe. We hate spam too.