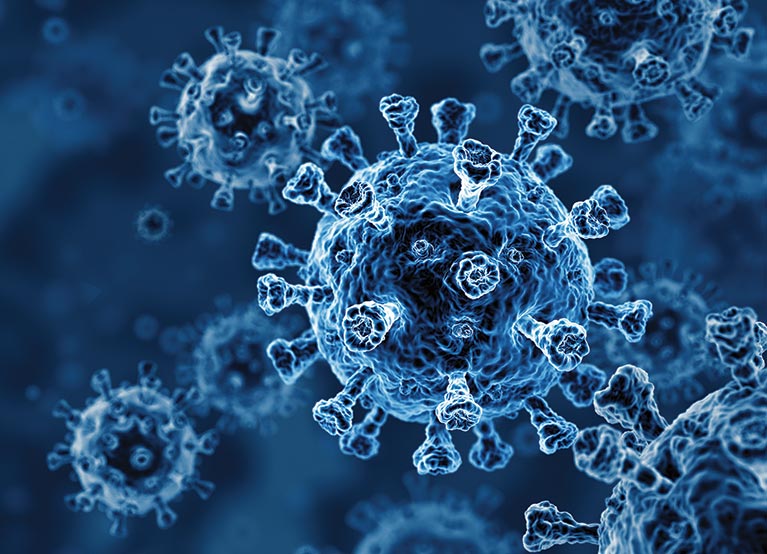 Island Villas COVID-19 Policy
In this period of travel uncertainty and ambiguity Island Villas takes this opportunity to once again assure you that the health and wellbeing of our guests, team members and all who visit the Island Villas properties is our highest priority.
We are doing all that we can to ensure your travel safety and provide maximum flexibility as the circumstances surrounding novel coronavirus (COVID-19) continues to evolve.
Travel Protocol
COVID-19 Waiver
It is my sole decision to travel and to stay at a rental dwelling managed by Island Villas Ltd.. I recognize that undertaking this decision to travel may have placed me and the members of my party at risk of contracting COVID-19. With full awareness and appreciation of the risks involved, I, for myself and on behalf of my family, spouse, estate, heirs, executors, administrators, assigns, and personal representatives hereby forever release, waive, discharge, and covenant not to sue the property owner, Island Villas Ltd., its agents, independent contractors, affiliates, employees, successors, and assigns said parties release from any and all liability, claims, demands, actions and causes of action whatsoever, directly or indirectly arising out of or related to any loss, damage, or injury, including death, that may be sustained by me related to COVID-19 whether caused by the negligence of the Released Parties, any third-party utilizing the premises or otherwise, while participating in any activity while on, or around the rental property and its facilities. All Covid quarantine security and associated costs are born by the guests regardless of the period of time quarantine last.
Booking Flexibility
To provide greater travel flexibility during this COVID-19 pandemic, Island Villas introduced a temporary relaxed cancellation policy on May 1, 2020:
| Booking Window | May 4, 2020 – December 1, 2020 |
| --- | --- |
| Travel Window | May 4, 2020 – December 15, 2021 |
Health & Safety
As we continue to take the necessary precautions to limit and contain the spread of COVID-19, the guidelines on best practice for infectious disease sanitization as set out by The Ministry of Health and Wellness have been implemented.
While still maintaining the warm, friendly and inviting atmosphere our guests have always enjoyed. Do also note the following procedures which shall be adhered to:
Villa Staff shall maintain physical distancing between each other as well as guests as much as possible.
Enhanced Team Member safety with the issuing of personal protective equipment
Enhanced training on cleaning and disinfecting for infectious diseases
Enhanced cleaning of frequently touched surfaces and areas within the villa
Contactless Check-in & Check-out options available
We will continue to update this page with the latest information regarding booking flexibility as well as health and safety protocols.
We invite you to view our wide range of Holiday properties and look forward to having you stay with us in the near future.
Policy
Free deferral of bookings made during this booking window for travel during the period July 6, 2020 – December 15, 2021
Final payments due 30 days prior to the date of arrival.
Please note that exceptions may apply to the Festive period (i.e. December 16, 2020 – January 3, 2021)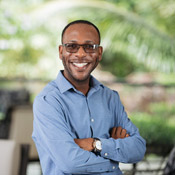 MARIO SPRINGER
Accounts Manager
Mario has an array of experience working in the financial/accounting field and has successfully achieved a Bachelor's Degree in Economics & Accounting from the University of the West Indies, Cave Hill Barbados. Mario is never tired of learning to further his experience and is currently pursuing an ACCA.
He is a dedicated employee who is diligent and hard working.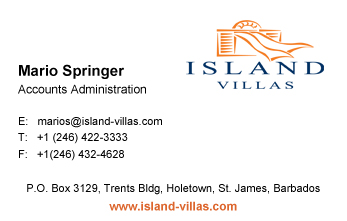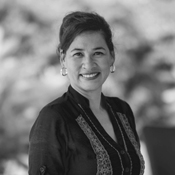 SUELAN HART
Sales Director
Suelan has many years experience in real estate business and specializes in finding the perfect match for our clients both locally and regionally. She has thorough knowledge of the real estate opportunities across Barbados, including high profile luxury estates such as Royal Westmoreland, Apes Hill, Sugar Hill and Sandy Lane.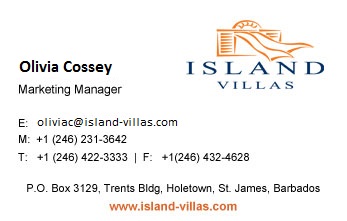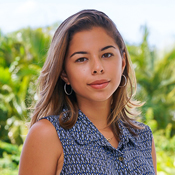 ZOE KING
Sales and Marketing Executive
Zoe manages the marketing portfolio for the Island Villas Group of Companies. She has spearheaded Island Villas' digital marketing strategy and is responsible for all communication and advertising, as well as functions on our websites and microsites. She ensures that Island Villas maintains its global recognition and works closely with all departments to develop effective marketing and business development plans.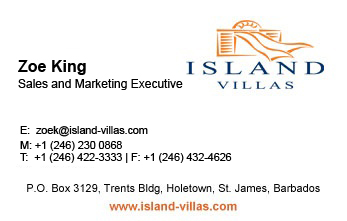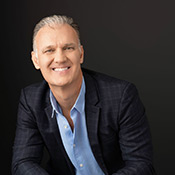 RICHARD EAMES
Managing Director
As the sole owner of Island Villas, Richard formulates and oversees the implementation of the company's business strategy. Since its conception in February 2000, he has transformed Island Villas into one of the leading property sales, property management and luxury villa rental companies in Barbados and the Caribbean.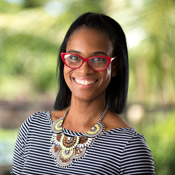 KAREN PERCH
Reservations Manager
Overseeing our exclusive holiday villa portfolio, it is Karen's responsibility to maximize property revenue through competitive pricing and control of our rooms' inventory. As the main point of customer contact she handles all short term rental queries and also coordinates all inbound and outbound logistics.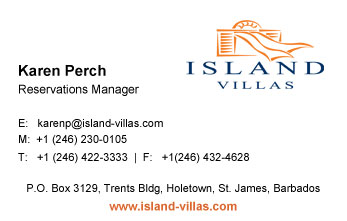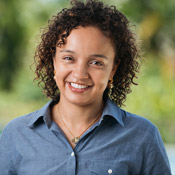 KARLA SEALY
Public Relations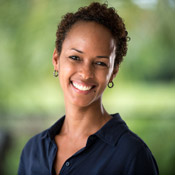 CHRISTINE RICHARDS
General Manager
As local and regional Sales Director, Christine specializes in finding luxurious properties that fit her clients' needs. Christine has thorough knowledge of our real estate opportunities in high profile luxury estates and developments such as Royal Westmoreland, Apes Hill, Sugar Hill and Sandy Lane. She plays an integral role in mapping the company's strategic direction and ensures that operational strategies are implemented and maintained to the highest standard. Christine spent several years living in Milan where she perfected her Italian. In her free time, Christine enjoys running and a good glass of wine with friends -- preferably not at the same time.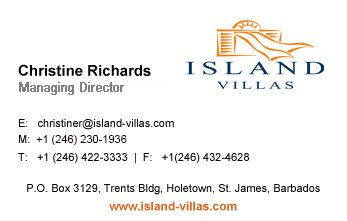 Join Our Community
Benefit from exclusive sales, new listings and even more information about Island Villas.
Your information is 100% safe. We hate spam too.