We specialize in High-end Caribbean Real Estate property for rent and for sale.
Island Villas is a friendly, people-oriented organization with a global reach, dedicated to providing exceptional customer service while maintaining an unwavering commitment to our community and the environment.
Read More
Our Mission
"With a commitment to corporate and environmental responsibility, the Island Villas Group of Companies provide the most professional, informative, loyal and dedicated service for our customers. We incorporate innovative, state-of-the-art techniques to deliver a premium offering in Facilities Management, .com Travel, Concierge Services, Real Estate Sales and Advisory Services."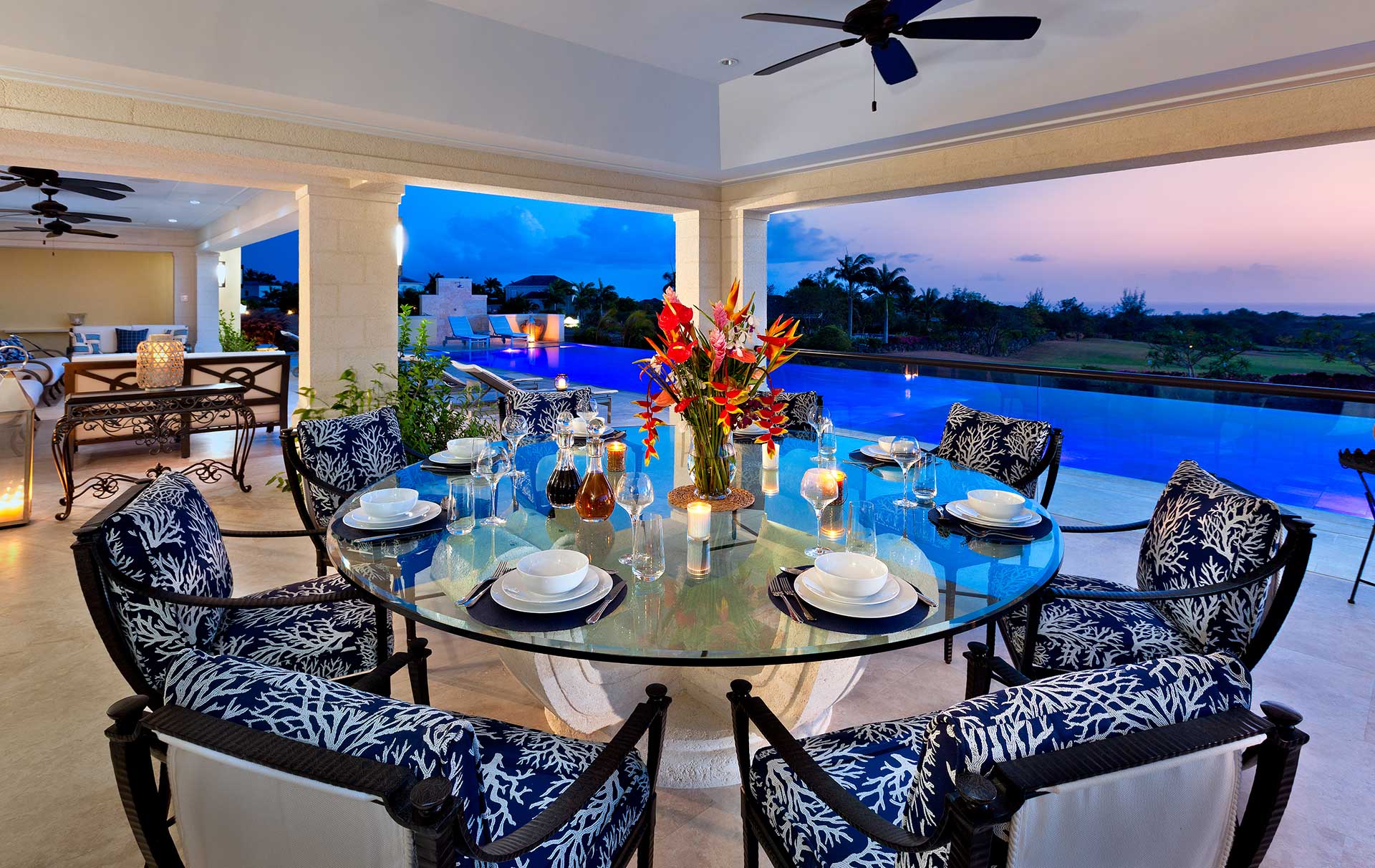 Welcome to Island Villas
Island Villas has distinguished itself in the real estate industry in Barbados and across the Caribbean.
Our highly experienced team provides a range of services including property management, villa rentals & sales, destination weddings and the benefits of our premium service, theconcierge and the concierge car rentals.
We invite you to peruse our extensive portfolio which encompasses over five hundred residential properties including villas for rent and for sale, and also land in prestigious developments. Our team can offer a wide range of options in exclusive developments such as Royal Westmoreland, Sugar Hill, Sandy Lane, Port St. Charles, Apes Hill, Saint Peters Bay, Mullins Bay, Port Ferdinand and Battaleys Mews. Our property managers are highly trained and oversee numerous properties in Barbados. This means that as an owner or renter, you can rest easy knowing that your property is maintained to its highest standard at all times.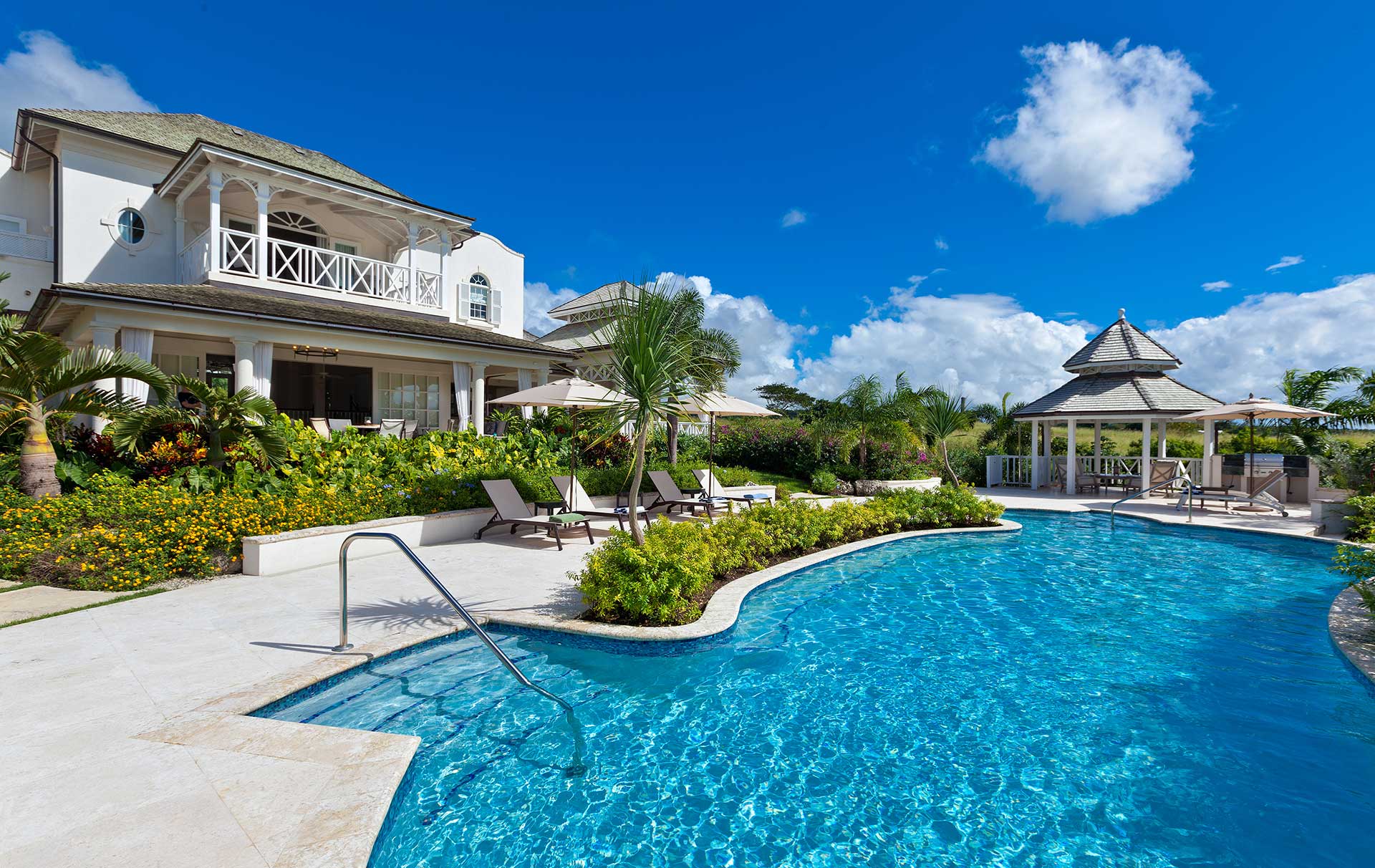 As part of our commitment to the community and the environment, Island Villas is also dedicated to maintaining its status as a successful, socially responsible, Safe Destinations, and Green Business. We are proud recipients of the Barbados Hotel and Tourism Authority President's Award for Green Initiative 2010 and the Island Villas Charity Fund continues to make monetary donations to worthy causes across the island.
Island Villas is a well established brand with global affiliation. Our associated partners Hamptons International which was established in 1869 offers more than 90 offices and provides market-leading property expertise - locally, nationally and internationally for 150 years.
Our multilingual team is able to serve clients from English-speaking territories as well as Italy, Germany, Serbia, Croatia, Spain and France.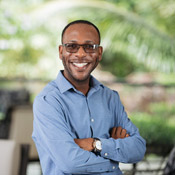 MARIO SPRINGER
Accounts Manager
Mario has extensive experience working in the financial/accounting field. He has successfully achieved a Bachelor's Degree in Economics and Accounting from the University of the West Indies, Cavehill Barbados and has obtained his ACCA designation. Mario's previous experience in the hospitality industry and his professionalism, have made him an ideal fit to manage our accounts team, as he ensures clients are comfortable and confident in their investments.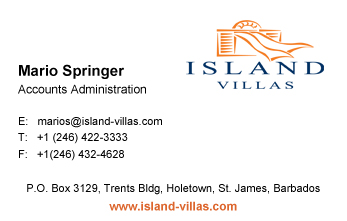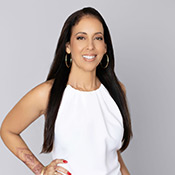 Maria Kublalsingh
Sales Manager
Maria has many years experience in real estate business and specializes in finding the perfect match for our clients both locally and regionally. She has thorough knowledge of the real estate opportunities across Barbados, including high profile luxury estates such as Royal Westmoreland, Apes Hill, Sugar Hill and Sandy Lane.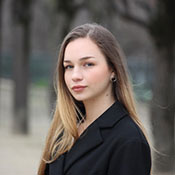 REBECCA EAMES
Digital Marketer
Rebecca manages the marketing portfolio for the Island Villas Group of Companies. She has spearheaded Island Villas' digital marketing strategy and is responsible for all communication and advertising, as well as functions on our websites and microsites. She ensures that Island Villas maintains its global recognition and works closely with all departments to develop effective marketing and business development plans.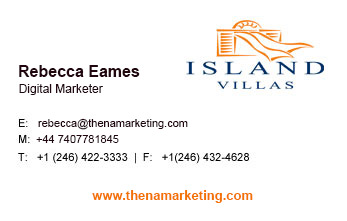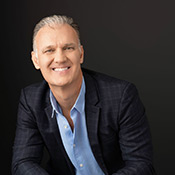 RICHARD EAMES
Chairman
An experienced professional and avid sailor, Richard has navigated the real estate industry and successfully established Island Villas Ltd as one of the leading property sales, management, and luxury villa rental companies in Barbados and across the region since we first opened doors in 2000. He aims to position island villas as the premier boutique real estate agency in the Caribbean, offering an unrivaled level of service and an innovative range of services.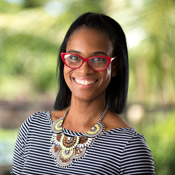 KAREN PERCH
Reservations Manager
Overseeing our exclusive holiday villa portfolio, Karen is the main point of contact for clients enquiring about rentals. She controls our room inventory, manages logistics, and maximizes property revenue. Karen fosters strong relationships with each one of our property owners, as well as with many of our guests. She is actively involved in local philanthropic efforts and community building initiatives. In her spare time, Karen is present at our local Rotary Club.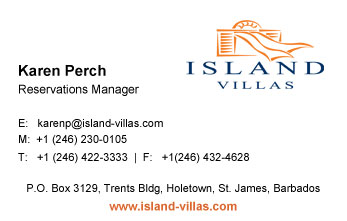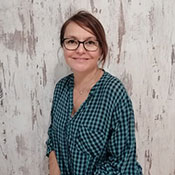 SASHA COLE
Holiday Vacation Director/Online Booking Consultant
Having spent years working in the industry and honing her skills consulting with many hotels, both in Barbados and internationally, Sasha has brought a wealth of experience and market knowledge to the Island Villas team. Sasha is an online bookings expert and specialises in utilising the science of real time website portals like the Expedia network and Booking.com to promote the properties within our portfolio and boost rental revenue and sales.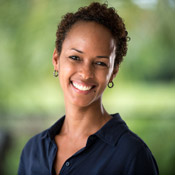 CHRISTINE RICHARDS
Managing Director
With the company from inception, Christine plays an integral role in mapping Island Villas strategic direction. With experience in sales, rentals, and management, Christine possesses a wealth of knowledge and heads the Property Management Department. Having previously studied in Milan, Christine is fluent in Italian and a dedicated marathon runner.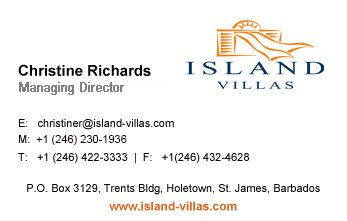 Join Our Community
Benefit from exclusive sales, new listings and even more information about Island Villas.
Your information is 100% safe. We hate spam too.