It's finally here! The inaugural Barbados Surf Pro has started and represents the official start to the Barbados Year of Sport. Island Villas had the chance to sit down with one of Barbados' hottest surfing talents and aspiring Olympian, Josh Burke.
On a board since the time he could walk, Josh says surfing runs in the Burke family blood. His father, Alan Burke, is also a local surfing champion and he runs the popular, Burkie's Surf School.  Josh credits him as his inspiration and says he is his biggest cheerleader.
At only 20 years old, Josh has already made history and has, quite literally, 'made waves' on the global surfing stage. Sponsored by the likes of Billabong and Reef, Josh has developed an impressive resume on the water. He is a 3 time Barbados under-16 National Junior Champion, 2 time under 21 National Champion and 2 time finalist at the 2014 NSSA National Championships. He has been profiled in Surfing Magazine's "Under 21" issue as one of the hottest talents on the globe and in 2014 he traveled to Tahiti for 2 weeks with Billabong to train at the most dangerous wave in the world,Teauhpoo, and to shoot for the Surfing Magazine Grom Movie.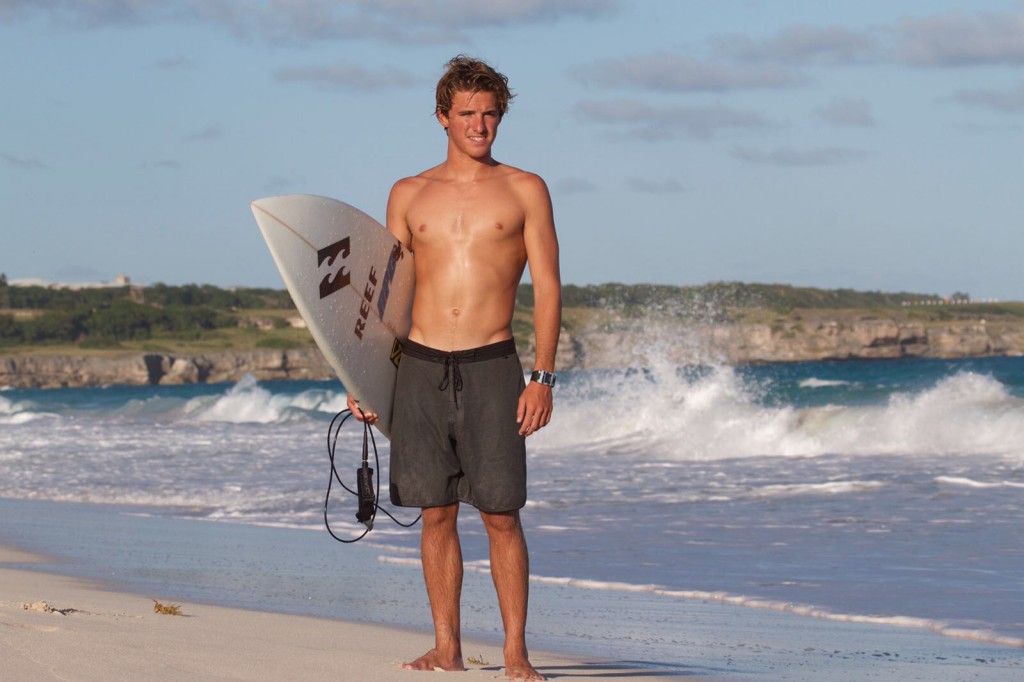 In January of this year, as the top ranking surfer on the World Surf League (WSL) Mens Qualifying Series (QS) tour, Josh became the first Barbadian to make qualification into the most prestigious event on the QS tour, the Volcom Pipe Pro 3000, held at the most famous wave in the world "PIPELINE" located on the North Shore of Oahu, Hawaii. As he describes it, "Everyone wants to surf Pipeline." Unfortunately, Josh got hurt a few days before the competition and this affected his performance. He made it through the first heat but during heat 2 he had what some have described as "the biggest and scariest wipeout in Volcom history." Although this ended his Pipe Pro debut, Josh's wipeout became a surfing viral sensation and he has welcomed the increased social media attention in the lead up to the inaugural Barbados Surf Pro.
"Having a QS3000 in Barbados is a huge deal as it will bring 100 surfers from around the world. We have amazing talent here in Barbados and usually we all have to travel overseas in order to compete in official WSL events. This year we have 6000 points available in the region with a QS in Barbados and nearby Martinique. We have the best set up here in Barbados with waves in every category and it is great that now other surfers can be introduced to the great beaches and wave set up we have here. This is a major opportunity for surf tourism."
As well as the Barbados Surf Pro, Josh will be busy in his first full year on the World Surf League QS Mens Tour heading to China, Australia and Florida (he recently returned from Cocoa Beach and Martinique). He is also hoping to represent Barbados at the 2020 Tokyo Olympic Games when surfing will officially make its debut.
Ride the wave Josh, we can't wait to see where you go next!
Are you here for the Barbados Surf Pro or planning a Barbados Surf Vacation? Check out some of Josh Burke's tips below and contact the Island Villas concierge to book now.
1) Top things to do while here on your Barbados surf holiday
Go to Bathsheba and drive along the island's east coast (ask our concierge about booking an open top rental car)
Don't miss the amazing views at Cherry Tree Hill (while you are there, take the opportunity and visit St Nicholas Abbey)
2) Favourite Surf Spot in Barbados
Soupbowl
3) Favourite Wave on island
Top Secret (you have to visit to find out!)
4) Favourite Beach 
Barbados has some of the best beaches. My favourite would have to be 'Burke's beach' where my family grew up